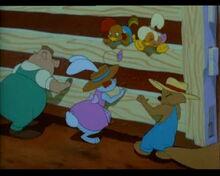 The baby chicks of Chanticleer and Goldie. They're not seen until the very end of the movie, during the ending debut of "Sun Do Shine". First seen sitting on the farm fence and last seen standing on the fence next to their mother Goldie, while their father Chanticleer entertains the farm animals once more with his singing. Both chicks look like miniature versions of Chanticleer and Goldie. The boy chick wearing blue overalls and a white shirt, with brown hair and a red crest like his father. The girl chick wearing a pink dress with bloomers with platinum blond hair tied up with a pink bow into a ponytail like her mother.
Ad blocker interference detected!
Wikia is a free-to-use site that makes money from advertising. We have a modified experience for viewers using ad blockers

Wikia is not accessible if you've made further modifications. Remove the custom ad blocker rule(s) and the page will load as expected.