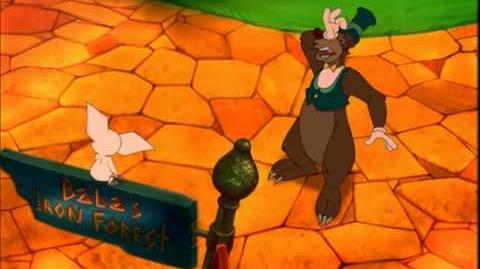 A Possible Hero is a Song from Bartok the Magnificent sang by Bartok and Zozi.
Lyrics
Zozi: Somebody needs you
And that's how it starts
Someone believes you'll come through
You're scared
So what
I'll bet you've got
A possible hero in you
 
It's more than courage
Or just being strong
Those things are easy to do
Have faith
Take heart
He's kind
He's smart
That possible hero in you

Close your eyes

Bartok: I think I see it

Zozi: You're unafraid

Bartok: I just might be

Zozi: I can almost predict

Bartok: No More Tricks
No more false pretenses
From the back Of A wagon
Maybe I'll save a life someday

Zozi: Or slay a dragon
Somebody needs you

Bartok: What else can you do

Zozi: But take your chances and see

Both: We're on our way

Zozi: All right

Bartok: Okay

Zozi: A possible hero

Bartok: Impossible hero

Zozi: A Possible Hero
In you

Bartok: In me
Ad blocker interference detected!
Wikia is a free-to-use site that makes money from advertising. We have a modified experience for viewers using ad blockers

Wikia is not accessible if you've made further modifications. Remove the custom ad blocker rule(s) and the page will load as expected.