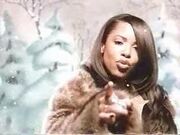 Aaliyah Dana Haughton (January 16, 1979 – August 25, 2001), Aaliyah was an American R&B recording artist, actress and model. She was born in Brooklyn, New York, and was raised in Detroit, Michigan. She sung the song Journey to the Past (end credits) from the movie Anastasia. On August 25, 2001, Aaliyah and eight others were killed in an airplane crash in The Bahamas after filming the music video for the single "Rock the Boat".
Ad blocker interference detected!
Wikia is a free-to-use site that makes money from advertising. We have a modified experience for viewers using ad blockers

Wikia is not accessible if you've made further modifications. Remove the custom ad blocker rule(s) and the page will load as expected.