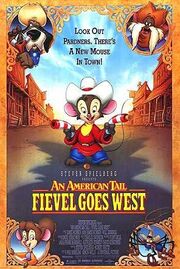 An American Tail: Fievel Goes West
is the 1991 first sequel to
An American Tail
.
Phillip Glasser
reprises his role as the voice of
Fievel Mousekewitz
. It is the first theatrical sequel to any Don Bluth film (as there was no such thing as films going directly to video), the second and last being
All Dogs Go to Heaven 2
.
Trivia
The engine on the train with a coal tender, two passenger coaches, a boxcar, and a caboose, is a 4-6-0 Ten Wheeler engine or an American type steam locomotive No. 7. These types of engines with their wheel arrangement were used most common on American railroads during the 1800s and 1830s until 1928.
Ad blocker interference detected!
Wikia is a free-to-use site that makes money from advertising. We have a modified experience for viewers using ad blockers

Wikia is not accessible if you've made further modifications. Remove the custom ad blocker rule(s) and the page will load as expected.