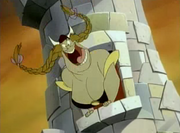 Daphne's mother is King Ethelred's wife and Princess Daphne's mother. Dirk the Daring is her son-in-law. She is dressed like a caricatural Valkyrie (similar to Wagner's opera) and is rough and very short-tempered.
At the start of the game, 10 years have passed after the adventure with Singe. Daphne and Dirk are married and had ten children. However she is again captured, this time by the evil wizard Mordroc, who wants to enslave her with the Death Ring. Alerted by the events, Daphne's mother puts the blame on her son-in law, aggressing and purchasing him until they enter the Dungeon where she accidently falls into a hole. However, she is seen in the home with her grandchildren at the end.
Ad blocker interference detected!
Wikia is a free-to-use site that makes money from advertising. We have a modified experience for viewers using ad blockers

Wikia is not accessible if you've made further modifications. Remove the custom ad blocker rule(s) and the page will load as expected.