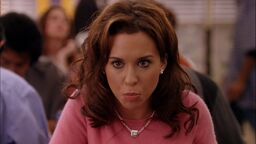 Lacey Nicole Chabert (born September 30, 1982) is an American actress and voice actress. She is best known as Gretchen Wieners in the 2004 film "Mean Girls". She provided the singing voice of young Anastasia in the film of the same name. She is also famous for her role in the Nickelodeon animated series The Wild Thornberrys and was the voice of Meg Griffin during the first season of Family Guy.
Ad blocker interference detected!
Wikia is a free-to-use site that makes money from advertising. We have a modified experience for viewers using ad blockers

Wikia is not accessible if you've made further modifications. Remove the custom ad blocker rule(s) and the page will load as expected.