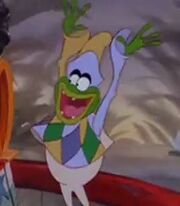 Mozo Toad
is the youngest son of
Mrs. Toad
in
Thumbelina
. He is voiced by Danny Mann. Mozo only appears in two scenes: the "On the Road" where he, his brothers and Thumbelina sing the song and in the scene where he and Gringo inform Grundel of Thumbelina's escape. Grundel gets so mad at Mozo and Gringo for laughing at him that he throws them in the pond. Once he's gone, Mozo and Gringo still laugh at him. They weren't seen again after this scene. 
Gallery
Ad blocker interference detected!
Wikia is a free-to-use site that makes money from advertising. We have a modified experience for viewers using ad blockers

Wikia is not accessible if you've made further modifications. Remove the custom ad blocker rule(s) and the page will load as expected.