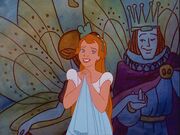 "Soon"
is a song from
Thumbelina
. It is first sung by
its titular, principal character
. It is later reprised by her
mother
.
Lyrics
Thumbelina: I know there's someone somewhere
Someone who's sure to find me soon
After the rain goes there are rainbows
I'll find my rainbow soon
Soon it won't be just pretend
Soon a happy ending
Love, can you hear me
If you're near me
Sing your song
Sure and strong and soon
Ad blocker interference detected!
Wikia is a free-to-use site that makes money from advertising. We have a modified experience for viewers using ad blockers

Wikia is not accessible if you've made further modifications. Remove the custom ad blocker rule(s) and the page will load as expected.