The train is a transportation in Anastasia (1997), which contains the train's engine as No. 2747, a 2-6-2 modified 1912 Swiss engine, with a coal tender, a baggage, dining car, and coaches.
Plot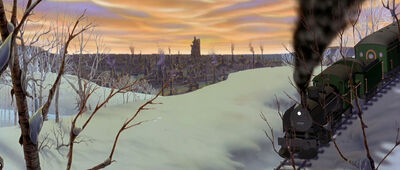 The following morning, as an engine's whistle blows, the train, which is carrying Dimitri, Vladmir, Anastasia, and Pooka, chugs through the beautiful snow covered Russian countryside and leaves the city of St. Petersburg behind. The mighty locomotive plows up huge furrows of snow and steams toward its intended destination. As the afternoon falls toward midnight, Rasptuin's green minions crash through brittle tree limbs and nevigate their way toward the train and the unsuspecting travellers. As they rocket beneath the train and catch up with the engine, Rasptuin's green minions leave a wake of flames on the tracks behind him. The minions, as tiny little green demons, crawl all over the engine and enter it by going into its dome, and when they go inside, the train engine then overheats, runs out of control, and catches fire as if it is about to fall apart. As Anya, Vlad, Dimitri, and Pooka move to the baggage car, Rasptuin's minions, having overheated the runaway locomotive, manage to seperate the baggage car and the burning train engine by uncoupling them from the dining car and coaches. As Vlad, at the front window, peers at the engine and sees sparks raining down, Anya and Dimitri move forward and see that the engine is blowing smoke and fire. Dimitri hops onto the coal tender, and enters the cab of the engine room to find no-one driving the engine, and comes back from the overheated locomotive in a hurry. The trio decide to uncouple the baggage car from the red hot glowing locomotive and successfully manage to uncouple the burning engine from the baggage car by using a dynimate stick. As the engine and baggage car run down toward a broken bridge, which exploded, Dimitri, Anya, Vlad, and Pooka jump off the train, and not a moment too soon as they land in the snow, the overheated train engine and ruined baggage car reach the end of the rail on the broken bridge and plunge off and ignite into a giant ball of fire and steam with a large explosion when they both hit the gorge and are broken apart.
Gallery
Ad blocker interference detected!
Wikia is a free-to-use site that makes money from advertising. We have a modified experience for viewers using ad blockers

Wikia is not accessible if you've made further modifications. Remove the custom ad blocker rule(s) and the page will load as expected.