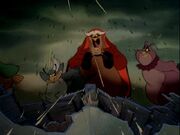 Tweedle le Dee is a song from Rock-A-Doodle which is sung by the Grand Duke of Owls and his followers as they are waiting for the farm animals (who are staying behind) to run out of batteries for their flashlight so they can kill them. The song doesn't even last a single minute.
Lyrics
THE DUKE & (OWLS):
Tweedle le de
(Tweedle le de)
They're running out
(They're running out)
They're running out of batteries!
(Of batteries!)
Hahahahahahaha! No batteries!
Ad blocker interference detected!
Wikia is a free-to-use site that makes money from advertising. We have a modified experience for viewers using ad blockers

Wikia is not accessible if you've made further modifications. Remove the custom ad blocker rule(s) and the page will load as expected.